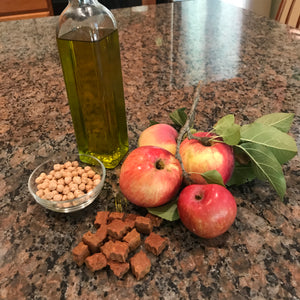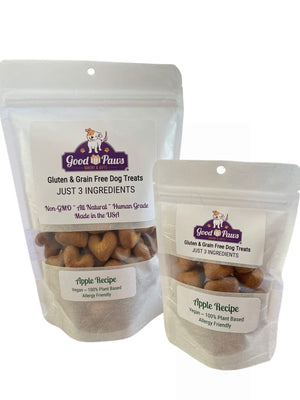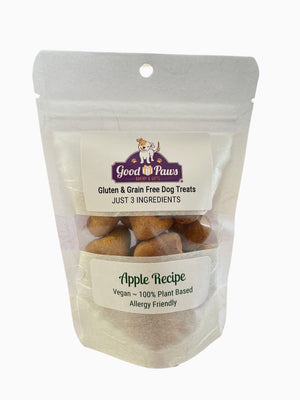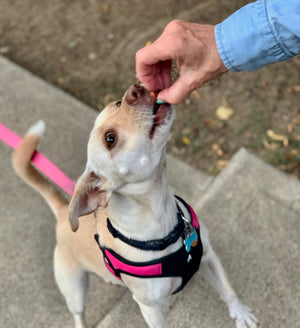 Do you have a dog that is sensitive or allergic to many foods?   

Our apple treat was developed with the help of a veterinarian and work very well for dogs with many food allergies and skin sensitivities. Because it is so difficult to find a safe hypoallergenic dog treat, our apple treats make these dogs and their people VERY HAPPY!
Our grain free, all natural apple recipe dog treats have just 3 ingredients, are vegan, and are enthusiastically loved by many dogs - especially picky eaters!  They are made in the USA in a regularly inspected, immaculately clean commercial kitchen.  These treats are as close as you can get to homemade dog treats with the convenience and care that we place in every batch.
Our treats are baked dry so they stay fresh for up to a year.

Buy them with a subscription and save 5% on each delivery!
INGREDIENTS - Chickpea Flour, Unsweetened Applesauce, and Olive Oil.  That's it!
GUARANTEED ANALYSIS -
Crude Protein (min) - 18%
Crude Fat (min) - 14%
Crude Fiber (max) - 2%
Moisture (max) - 5% 

Best Dog Treats
Finally a treat my dog isn't allergic to! Cooper loves these treats and comes running when he hears the bag getting opened.
Great for my Pits sensitive stomach
She loves them and they do not cause flare ups to her sensitive skin/stomach. Treats are big enough to break in half.
My dog loves them and they are healthy!
My dogs' favorite gift this year
We went a little overboard with the dogs this Christmas. They got way too many toys and chewy things. But their favorite thing BY FAR, were their treats from Good Paws. I left the bag on the mantlepiece and hours later, I found my Finley sitting at the the fireplace, staring longingly up at the treat bag.
dog is obsessed
Love these treats. My big guy isn't a picky eater but he loves the taste and I love how clean they are. Bubba, our American Bulldog recently developed some food allergies and these treats check off all the boxes. Recommended by Alternative Vet Solutions in Andover!