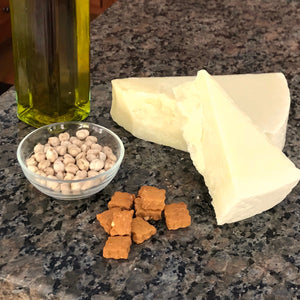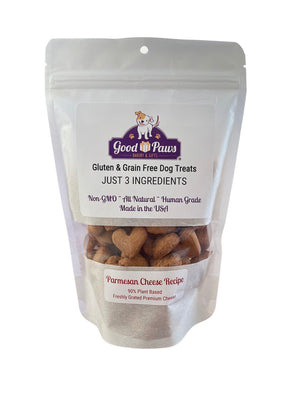 Your cheese loving pup will go crazy for our Parmesan Cheese grain free dog treats.  These treats are freshly made in the U.S.A. with a premium Parmesan Cheese made with pasteurized cow's milk and no preservatives. 
PICKY EATERS  LOVE THEM!!
Our grain free dog treat recipes are made with just 3 ingredients and are gluten free, limited ingredient, and have no corn, wheat or soy.  They are as close as you can get to homemade dog treats without making them yourself. 
Our treats are baked dry so they stay fresh for up to a year.

Buy them with a subscription and save 5% on each delivery!
INGREDIENTS - Chickpea Flour, Parmesan Cheese (pasteurized cow's milk, culture, salt, enzymes and no preservatives) and Olive oil.  
GUARANTEED ANALYSIS -
Crude Protein (min) - 23%
Crude Fat (min) - 10%
Crude Fiber (max) - 1%
Moisture (max) - 5% 
Amazing Treats!
We discovered Good Paws while traveling to New Hampshire and brought them back as a souvenir for our 1 year old Bernese. She just can't get enough! Our pup is a picky eater but she has no problem jumping for one of these treats. We like that they have no artificial ingredients and that they are good and wholesome for our pup's growing body! Definitely will be ordering more of these!
Stella is a VERY PICKY EATER!
My dog Stella has always been a picky eater. She's never been the kind of dog to lick the bowl clean, and she turns her nose up at most treats. She's quite elderly now, and has some health issues that have impacted her appetite even further. It's a chore to get her to eat anything, and I cook for her every day just to get her to eat something.
I recently got a bag of Good Paws treats as a gift. I didn't expect her to like them. Not only did she like them, but she ate the entire bag! I was so thrilled to see her eating that I just poured a large handful in front of her, just to watch her gobble them up! I know you made Stella's day, but you also made mine with these treats!
Mocha loves all the Good Paws products!
I love the fact that Gina uses gluten free and grain free ingredients in her dog treats. She also uses limited food products which makes me rest assured that I am giving my loved pet the best quality dog treats possible. Mocha loves all of Good Paw Bakery's products. She is always ready to gobble these treats down during her walks or puppy training times!
Yummy!
Our new Yorkshire Terrier has been a picky eater since the day we picked her up. It took us a while to discover what she would eat for food and treats. Believe me when I say we tried it all (all the healthy options, that is). Our goal with our little one has always been to give her food and treats that we know and can read the ingredients. It some time for us to find the ones she loves! However, finding a great healthy treat was easy once we tried Good Paws. She absolutely loves the Parmesan cheese flavored ones. She behaves super well when she hears the treat jar open and we grab for the bag. She absolutely knows it by sound!
We highly recommend these treats for your fur babies, too! Plus if you're feeling like a snack, they are great for humans, too! Cannot beat the healthy ingredients in these treats!